Associate Artists Robert Dutton and Andy Moodie explain how supporting one another as artists helps each to progress using Unison Colour soft pastels.
Artists have often collaborated together in numerous ways to achieve their goals, enrich their creative experiences and to advance and make progress with their art.
Unison Colour Associate artists Robert Dutton (from North Yorkshire) and Andy Moodie (from Harrogate) explain how their long standing friendship and association as artists works in partnership to help each other move forward in new and exciting ways sharing their passion for Unison Colour soft pastels.
Robert Dutton
"As a professional artist teaching plays a big part in what I do. The experiences are enriching – not just for the art students I teach but for me as well.
I have had the honour to have taught many different artists over the years and helping all to progress one way or another. It is really great to share my own experiences in both practical terms and on a one to one mentoring basis too. Each artist takes away lots of new ideas and lots of positivity with them to the next class or back to their own studio.
Naturally there will be stand out artists. Fellow Associate Artist Andrew Moodie (and friend) is one such artist and it's an absolute joy to know I've played a major role in Andy's creative process time and time again on his creative journey to become his very own professional artist with a unique style.
I first met Andy way back in the late 90's when I was employed as exhibition and marketing organiser and as leading art tutor for an independent gallery in Harrogate called Original Arts (Harrogate) Ltd. Andy attended regular evening pastel and painting classes with me and was always keen to learn and develop his art skills absorbing quickly everything I explained and demonstrated.
A quick learner, his skills grew along with his own confidence and approach to different media, but his pastels stood out the most. We used Unison Colour pastels of course! The gallery and art shop sold Unison Colour Soft Pastel in the bucket load. They were very popular and I think the pastel courses and workshops helped!
When the gallery and art shop closed I moved on and set up my own workshops and art classes. Many of the students I had been teaching joined me and supported my new venture as an independent artist.
Andy attended my new classes as they quickly grew in popularity. I expanded my repertoire of teaching to include expressive mixed media classes which included pastel techniques. Andy, keen to learn as always, supported the new classes, which specialised in landscape and seascape subjects, creating unique paintings of his own and his style and confidence with different media was expanding all the time.
An artist's life – especially my own, is always in flux. A lucrative offer to join PWC after several years freelance and running my own business was too good to miss so I returned full time to Commercial Graphic Design for the financial company. Somehow I managed to balance the busy demand of my job with several self organised workshops and kept painting, mainly on weekends and evenings when not working overtime. I entered open art competitions and won awards.The creative fine art light still burned!
However, in 2013 I cut the ties completely with graphic design and focused entirely on my fine art career. I began to teach abroad as well as residential UK art weeks and Andy attended several art holidays to include one in France.
The pace of Andy's art skills gained real momentum on the art holidays and it was an absolute joy to see how many great paintings he was creating on a regular basis now. I particularly noticed how Andy's use of colour was particularly confident and strong which was impressive.
Andy keeps absorbing and developing, not just from me but from other professional artists too. En plein air on his own or in the company of other artists who, like me, enjoy his relaxed, easy going company see the 'joie de vivre' in Andy's work .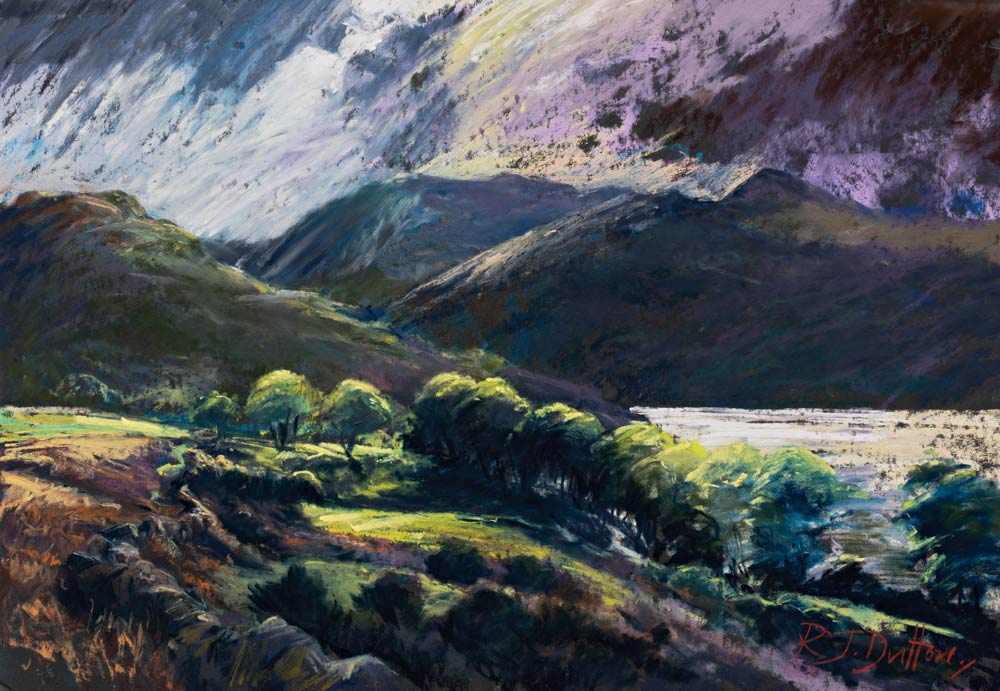 Andy is now very much his own artist and sells his pastels and mixed media paintings on a regular basis and I think that's absolutely fabulous! All his hard work has really paid off. His ambition to succeed is being realised and I'm thrilled for him.
Being a fellow Unison Colour Associate Artist we share a passion for the brand and it is clear to see how, for both of us, using Unison Colour pastels has made a massive difference to both our art careers and is set to continue for a long time yet as we both keep gaining awards and successes thanks to Unison Colour!