If you are a beginner to painting portraits in Pastel, this is for you, if you're struggling because you feel you'll never improve or your just starting out, this is for you and if you're looking all around you, seeing beautiful art that you'll never aspire too, this is also, for you.
As I grow as an artist, I look back at work that I did in the early days and it spurs me on to see how much progress I have made!
The other day my very first dog portrait popped up on my Facebook memories from 5 years previous.  I saw how much I had improved in my search for realism.  More realistic, more detail, better techniques, better colour choices and better lighting.  But at the same time, it struck me that this first ever dog portrait was loved and received with true joy and compliments and still very much loved.
No matter how perceived 'good' the art is, because of the skills, techniques, and experience of the artist if the character of your subject can be seen the portrait is loved no matter what.
This dear departed Collie is still pride of place in the young boy's bedroom, he actually cried when he saw it and still absolutely loves it.
If you are just starting out with pastel and struggling with techniques and worry about sharing your work with others, remember that getting the initial drawing correct is the most important thing. Practice your drawing skills, use a grid, use tracedown (transfer paper). All these techniques improve your drawing skills. Even tracing improves your drawing skills – yes it really does!  Use a combination of tracing for key areas like eyes, then freehand the rest.  The techniques for pastel will come as you practice. Your first paintings will be loved just as mine were and in a few year's you'll look back at your work and realise just how far you've come.
My top tip: keep all your work and do not be tempted to throw it away! Store it in a folder between glassine sheets and it until the next time you notice you have improved.  Then go peek at your early attempts, compare and give yourself a pat on the back!!
This is a comparison of my first dog portrait and one of my most recent. 5 years of practicing, nearly every day.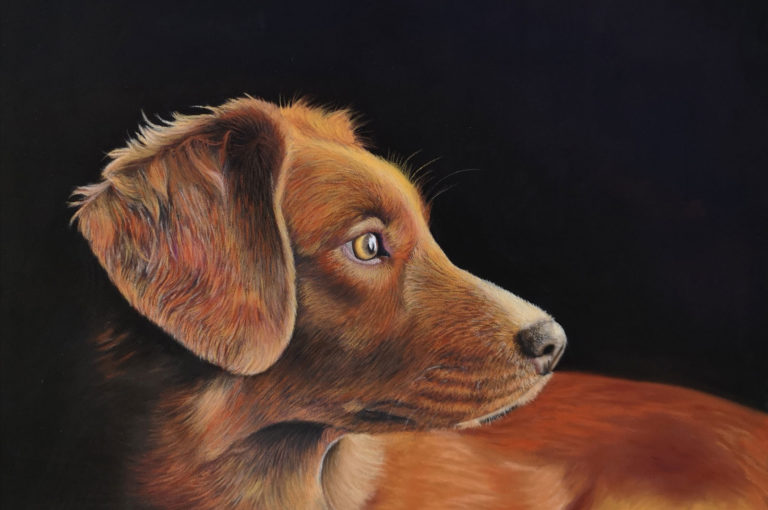 You can visit Sue's website at skhportraits.co.uk.