How we use and hold our pastels will determine what amazing marks we will make. Eventually, with practice and discovery through play, this will create our style; how our pastel paintings are defined through the unique way we have found to move the pastels across our chosen surface leaving gorgeous traces of colour. This all relates to dexterity with our mark making. What I am talking about is the same as what makes our handwriting so totally individual and the style and flourish we employ in our signatures full of speed and movement combined with the particular way we hold our chosen pen/pencil/drawing tool.
Practicing our mark making is equivalent to doing our scales as a musician. It is essential to develop our dexterity in holding and moving the pastels around the paper whilst loosening up our fingers, hands and wrists and learning new expressive and experimental ways to use our pastels.
Individuality in our art is extremely important whether a professional artist, a happy amateur or indeed a student with your eye on the prize! It is also the most exciting element of your work; did you realise that? The subjects that personally inspire you because you see them every day, whether it is sketching your pets from life whilst they sleep or painting the beautiful flowers in your garden which you nurture on a daily basis or the countryside/urban landscape which is on your doorstep. Your personal subject matter, your favoured pastel techniques, pastel papers, your considered colour palettes will all combine in the most amazing way to give your work its unique identity.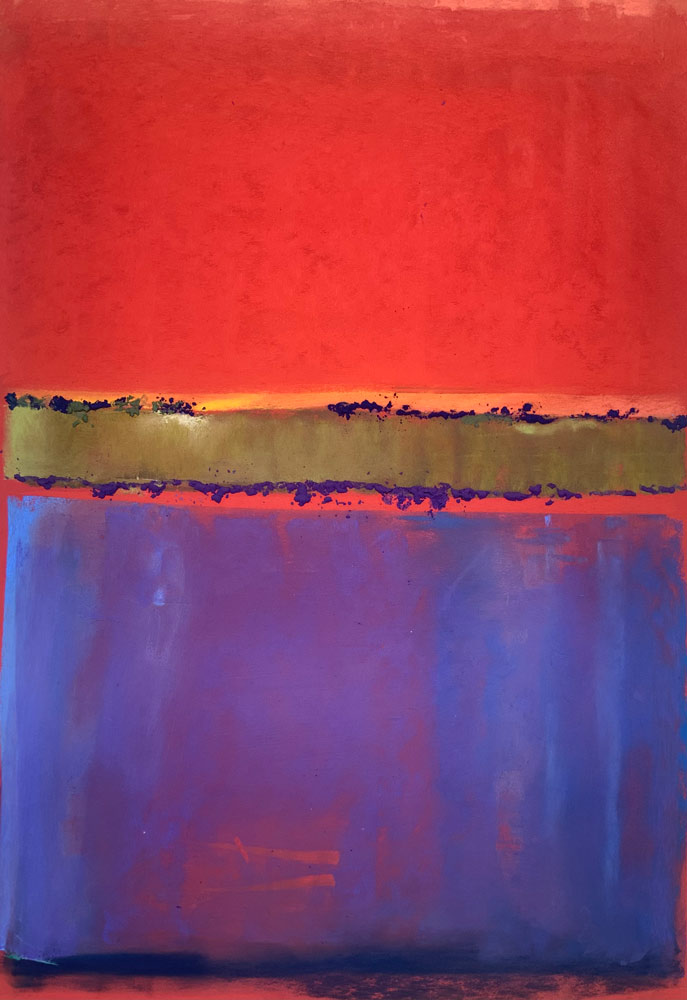 Although I am essentially a landscape painter and also known for my still life work, I spend much of my time experimenting with a huge variety of techniques which usually end up looking excitedly abstract. I keep all these playful studies in large sketchbooks which I now use for reference. They are my "Everything to know about using pastels" books. As a tutor of pastel painting, I encourage everyone to build their own reference sketchbooks and fill them with lots of mark making experiments, colour swatches and paper tests.
For example, have you tried any of the techniques in the 5 photos above?
From top left to bottom right,
sgraffito on Clairefontaine pastelmat with pastel on top to get great foreground grass effects.
Fisher 400 sanded paper creased and scrunched and then flattened enough to get exciting,  wide pastel marks on top which resemble tree bark.
Copying a Mark Rothko painting using a pastel/alcohol underpainting for stunning layers of colour.
Working pastel into a wet pastel/alcohol underpainting for some sgraffito and also sprinkling lots of loose pastel dust which is then pressed in with the end of a ruler is circular movements for something really abstract and unpredictable.
Dark brown Sennelier pastel card taped with a basic abstract design and worked on top using dry pastels and pastel dust sprinkled and pressed in before removing tape to reveal the paper underneath.
Above are 2 examples of using my sgraffito technique in my pastel landscape paintings and below an example of working on a pastel/alcohol underpainting with a variety of rolled edge pastel marks, dots, dashes and fine lines for much of the foliage and broader firm strokes in the muddy path to lead the eye into the painting.
Why experiment with mark making and practice your dexterity, you may ask? Well, this will increase your knowledge of using pastel. Experimenting with your materials and really pushing them to their full potential will teach you an incredible amount. You will begin to understand your papers extremely well in terms of whether they take liquid, have a scratchable surface, are they indestructible or extremely fragile do they have a pile or a tooth or maybe they are totally smooth. Knowing when to use which surface and with which pastel technique and for which subjects will give you increased confidence generally in your pastel work.
I always begin teaching new students how to develop an attitude of enquiry through experimental mark making and dexterity exercises so that they will immediately feel confident with the handling of their Unison Colour pastels… and yes, I only use Unisons with my students as my aim is to show them the best of what this medium has to offer. BEWARE the pastels which look like Unisons but are much cheaper as they won't necessarily be soluble in alcohol or water, are probably not made using natural pigments, may be much harder or even coated around the outside so you can only use the end and will just be a huge disappointment.
For an in-depth look at mark making, try Cathy's 12 Month Still Life course over at the Pastel Academy.