I have been smitten with soft pastels for well over a decade now. It's a form of addiction really – the immediacy and vibrancy being so hard to beat (and having used watercolour, oils and acrylics I still stand by that statement).
It has sometimes felt like an uphill struggle to find 'my style' – my eyes regularly being drawn to other artist's wonderful work and recognisable signature mark making and colour use which for a long while I have felt I did not achieve.
Whilst never wanting to emulate anyone, and certainly not copying other work, I do want, and need, to be inspired. Inevitably this led me to admiring from afar the annual Pastel Society exhibition held at the prestigious Mall Galleries in London now in its 122nd year. You need go no further to appreciate the versatility and scope of soft pastels and be assured of the highest standard in all the genres of soft pastel paintings and drawings.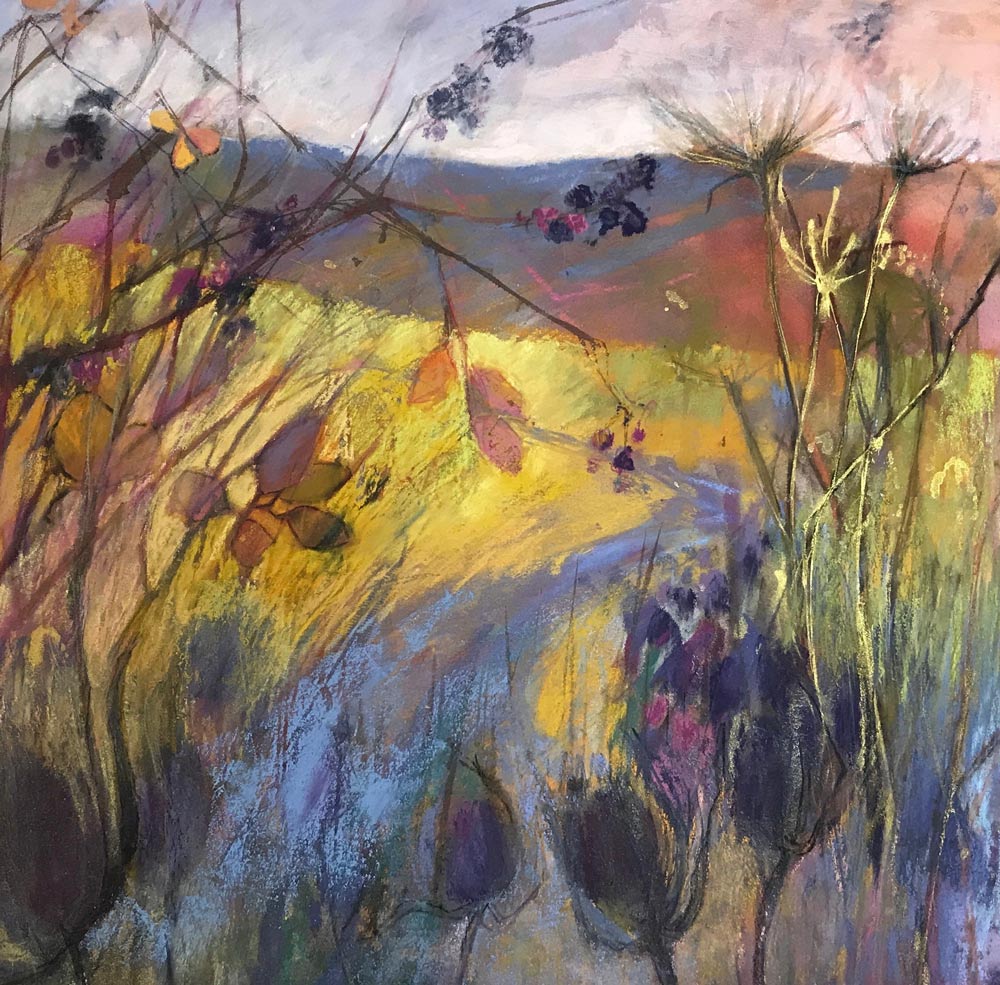 So, in 2013 I decided to 'have a go'. I won't hold back from telling you it's tough competing against so many talented soft pastel/dry media artists. Be prepared for rejection and overjoyed if the news is positive. The bottom line is you submit online up to 6 entries (which need to be at least 80% dry media) which are juried (judged) and, if successful are hung in the international exhibition that year at The Mall Galleries in Pall Mall London.
With applications every year since then, it took me until 2016 to have a piece accepted, and until 2019 to be put forward for membership – this part of the process being ongoing and not at all a 'fait accompli'.
So WHY do I do it? Good question I say, I certainly have asked myself this very thing many times. But, in fact, I can give you quite a few good reasons why.
I was not lucky enough to go to Art School so am largely self-taught. I did follow the Open College of Arts distance learning degree course and have built up my experience and learning from there on a pretty ad-hoc basis. What applying for the Pastel Society has focused me over the years can be summarised as follows:
Gaining experience in a professional situation
Needing to create a CV and artist's statement
Committing to creating a body of work from scratch
Endeavouring to be different whilst true to 'my style'
Having long term goals and working to deadlines
Achieving my very best creatively
All of those goals are good for me as an artist. So even if I never become a member of the Pastel Society the whole process takes me in the right direction. Of course, I will be hugely disappointed and may curse a bit 😀 but I will ultimately look on the bright side (I hope!).
So who are The Pastel Society and I quote……..?
"Encouraging the use of pastel within the contemporary art world. The Society was founded in 1898, and the first exhibition held in the Royal Institute in Piccadilly. Founder members and early exhibitors included Brangwyn, Degas, Rodin, Rothenstein, Whistler and G.F. Watts. There are currently over fifty-five Members who are professional artists living and working in this country and overseas. Membership is granted through a strict assessment of technical skill, originality, innovation and enthusiasm.

The Society pursues its aims through education and example. It is currently responsible for organising exhibitions, tutorial workshops, demonstrations and lectures throughout the UK. The Society's major showcase is the Annual Exhibition held at the prestigious Mall Galleries in London. This is open to entries from both Members and Non-Members. Awards are made to works of particular note."
And how does it work?
You can read all the 'Conditions of Entry' online at :
Be prepared if/when your work is accepted you will need to get it to London on a predetermined day for hanging. Obviously, no one knows what will be happening in February next year but currently the exhibition is scheduled for Wednesday 27th January – Saturday 13th February 2021
With deadline for entry Friday 4th December at midday.
What would I recommend you do in the first instance?
Even if you are not tempted to apply for the 2021 exhibition do go and see the hang at the Mall Galleries and be prepared to be bowled over by the breadth and quality of work on display. It's a wonderful exhibition space with an equally tempting shop and café, very close to Trafalgar Square
If travelling to London is not possible you should also be able to view the exhibition online.
Take the opportunity to sign up for Pastel Society workshops (all details on their webpage). I have, over time, attended workshops with Felicity House, Tony Allain, Roger Dellar and John Tookey – none of their styles are like mine but nevertheless I gained so much in terms of learning and inspiration.
And if you do decide to enter in the future one thing I would advise you to bear in mind – there is a cost for each image entered (as is normal for most exhibitions of this nature) and, if chosen, your image will need to be professionally framed and transported to London. Please note there are special discounts for submissions by artists under 35 years old.
So be brave, and IF at first you are rejected don't lose heart try, try and try again!