These are my thoughts on inspiration and painting from real life and your own reference photographs.
First of all though, just to clarify, painting, yes you might wonder whether pastels are paintings or drawings. Back in Degas's time pastels were quite often the preparatory smaller sketches for a bigger oil painting and consequently not taken so seriously. There is a speed quality to pastels that mixing oils couldn't replicate.
But Paula Rego used pastels in her much larger finished pieces and they are considered by many experts as a significant body of work. Both mediums of oil and pastel use the same layering effect, building up colour, thinking about values, colours, tone and composition in the same way as a painter. So as a Pastellist I consider my work to be painting not drawing.
We all need inspiration to work, something that captivates us and sets off fireworks in our soul. For me it will be nature, clouds, skies, reflections, which are all my daily recharge. I am also very much inspired by the Pre Raphaelites, often reflecting tragedy and love. Extremes of emotion can generate big feelings. I like to think of it as a fire, the embers sit there glowing, but feeling fires those embers up into flames. Some 50 years after Tennyson wrote the Lady of Shalott, Waterhouse was inspired to paint it. Whatever fires up your creative fire, I would say be authentic with it. If you can, use your own image, its half of the work and quite significant. It's all about perception, we can all see the same subject but have a different perception about it.
Last year I was inspired to recreate a modern-day version of this painting.
Some of the joy of painting begins way before you even set pastel to paper. It's in the imagining, the planning, the anticipation, the collecting of props. In this case finding the right model, arranging a boat, picking the flowers, thinking of what each object represents, the meaning.
I used my daughter in law as the model and put her in my old wedding dress from the 80's which was an antique Edwardian dress and quite worn.
Below are some pictures of the shoot. Alex had never been in a scull before, they aren't the steadiest of vessels. With good humour and bravery we set up the pose.
I used a piece of original William Morris willow fabric to echo the trees behind, champagne of course, my first teddy from 1960 was propped up on the antique candlesticks. We were so lucky to have curious swans sail in to see what we were up to. Do swans sail? Maybe they glide.
The reflection wasn't quite right, I wanted a strong reflection in the still river so we pushed the boat up the small outlet nearer the willow trees.
This was nearly how I had envisaged it, but I wanted Alex' profile, it felt more wistful and more a mirror of the feelings that were coming out of Waterhouse' work.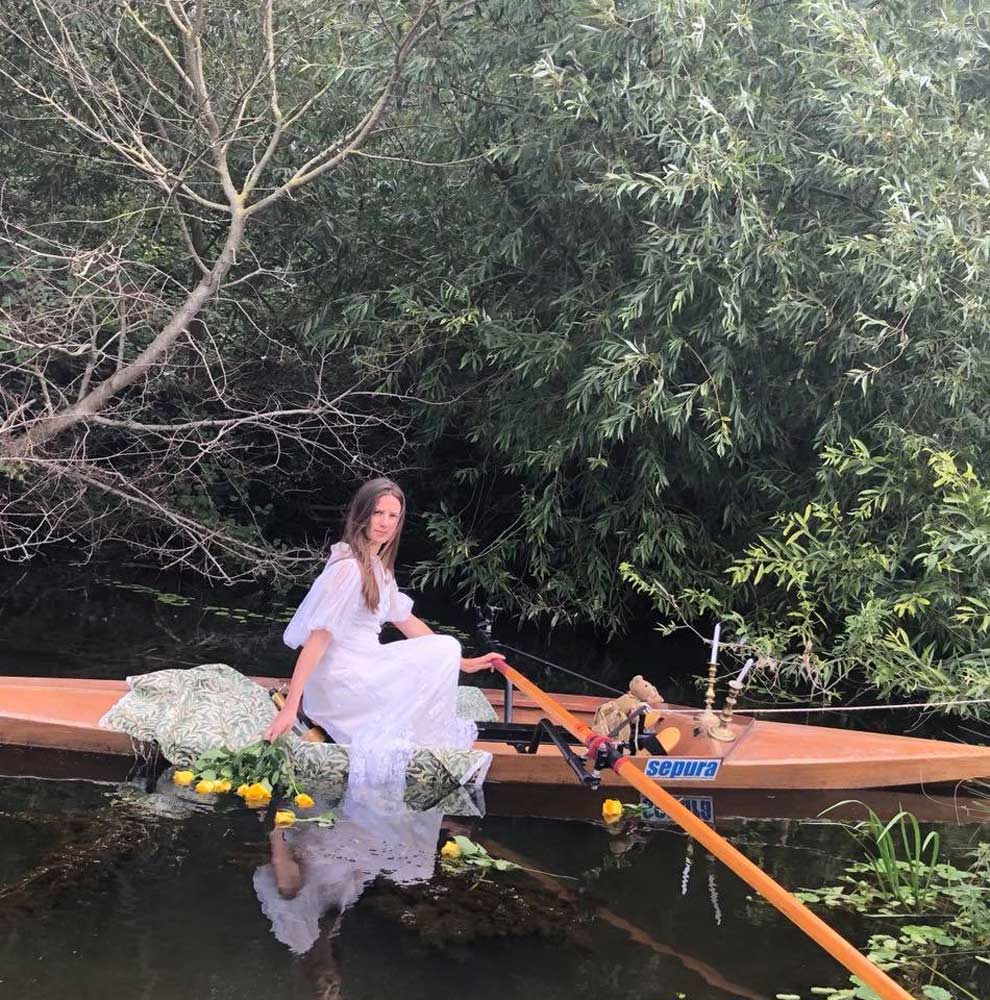 This was almost the pose we settled on. I made sure to take close ups for future reference and I also made sketches in my sketchbook of compositions, tonal values. It's always good to make a note of possible colour next to sketches too. In the final reference, the swans were in the background, lost on an old laptop.
Once home, I stretched my Giant Hoxton watercolour paper onto my studio wall, it really is giant! 5 ft x 4 ft. I stuck on some white tissue paper, it adds texture to some places that I felt needed it. I gave it a wash of Payne's grey, to tone it down as I was working with a lot of dark colours in the background and I wanted the whites to stand out. I find it helpful to grid up the reference photo first and scale up.
We tend to start with the part that interests us the most, it maybe the eyes or hands or a certain object, in this case it was the figure, I knew that the background was going to be quite challenging in terms of it capturing my interest, more a technical representation than a creative freedom.
Here is a photo of my studio wall with the painting begun. Not a very appealing wall, but hey. It's a working wall.
Already I was feeling uneasy about the swan on the left, it seemed to detract from the white of the dress. And I felt the eye was moving away from the figure. But we continued. It took about 40 hours work to get to the next point. I like to catch a painting by surprise, leave it a few days, then catch a glimpse of it. This is a really good way to see the glaring mistakes.
This was the piece that went to the framers. I don't know why I was reluctant to let go of the swan. I like to frame rather than fix with fixative, it dulls the vibrancy of such natural pastels. What is good about Unison is the colour range, the solidness of the pastel takes a huge battering, you can't have a pastel that crumbles at a critical point, I trust after 25+ years of using them that they don't.
I had a sleepless night, something wasn't right. I went back to the framers to collect and had a few days musing on it.
I deleted the left side swan and added a box behind the figure for interest. The box was open and in a moment of instinct added some coloured smoke. Pandoras box releasing hope into the world. I called this painting Hope. It made pre-selection in the Pastel Society, but didn't go all the way.
So what did I learn, every piece is a learning curve for the next one.
I think trusting your instincts is key, be authentic, use your own images, be creative, be curious. I would say don't just be a technician, be a tactician. Be both. We need our technical ability to make but our tactical, creative side is what takes it up to another level.