I would like to introduce you to a mixed medium work using chinagraph pencils, watercolour and finally Unison Colour pastels.
Chinagraph pencils are almost waterproof but will just take a coat of watercolour and show through very clearly. They are great in the field as most are designed with an outer sleeve to peel away at the point and do not require a knife or sharpener. In this particular method they are very effective for snow scenes using watercolour paper as a base and can be used on hot pressed or rough depending on what texture you require from the final pastel. I usually use 140 lb Arches hot pressed for most of my water and pastel work but for snow a "not" can be very effective.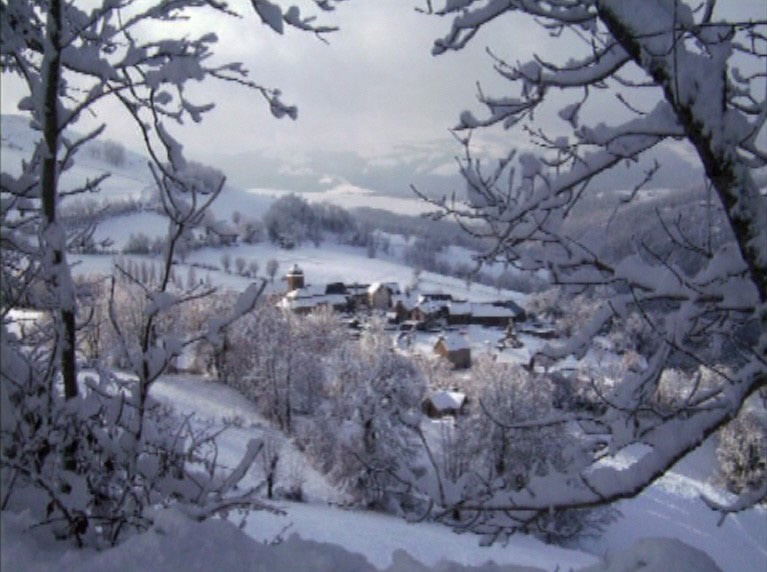 Above left is my original photo from France. Above right the first drawing with the black chinagraph pencil. Make it VERY black on most, we can still adjust with pastel later. It is almost impossible to rub chinagraph pencil out, so be bold but take care!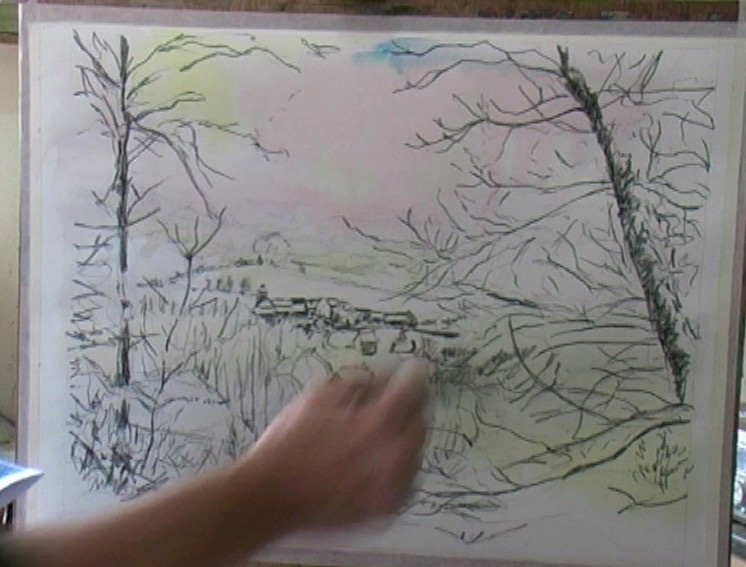 Above left and right are the watercolour paintings being built up. The secret with using pastel over watercolour, usually, is to make the watercolour much stronger than you normally would. You are able to lay whites and light pastel colours sparkling over the top!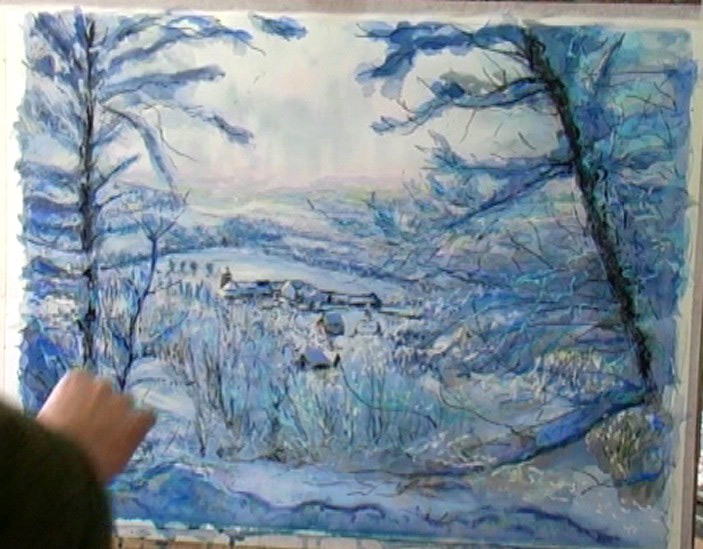 Above left. Starting the first touches of pastels over the surface of the watercolour. You may scumble this, blend it or add pure highlights, as you see here, to frosty or sunlit surfaces. You may even blend it in with a little water and your watercolour brushes if you wish. This can be very useful for darker twigs and branches as a dark pastel colour can be teased out with a fine wet brush far more easily than a larger pastel edge. You should already have most of your dark marks with the chinagraph pencil anyway? This method will be expanded far more as take I these articles further into water and pastel.
Here is the final work.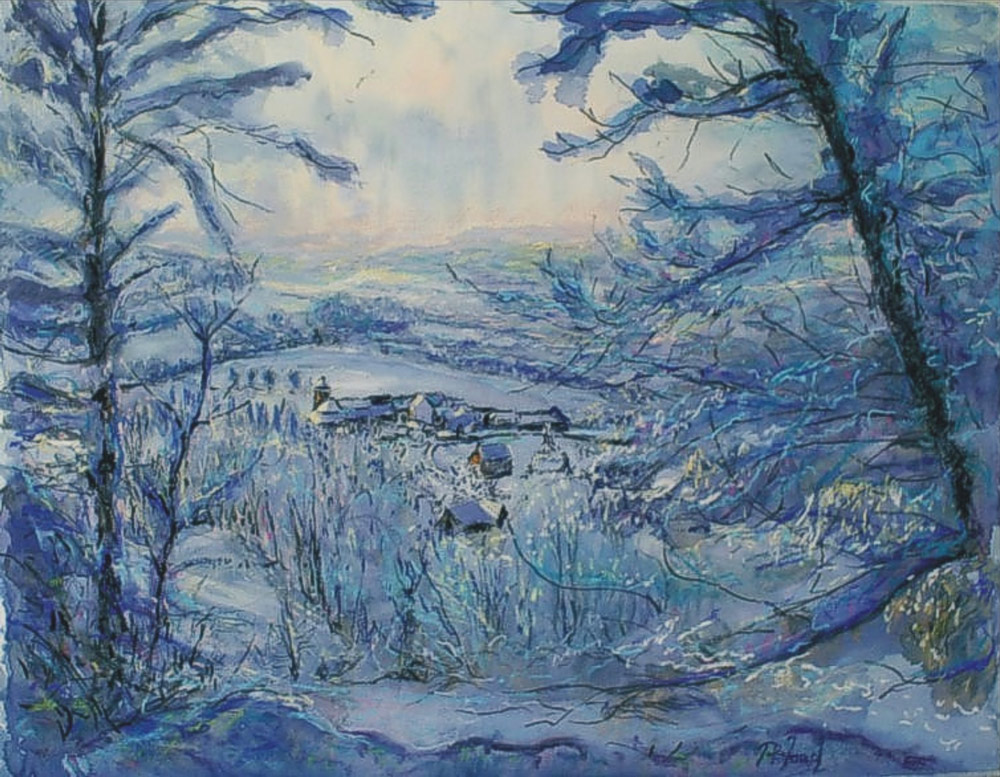 Now let us look at a few previous paintings using the same method.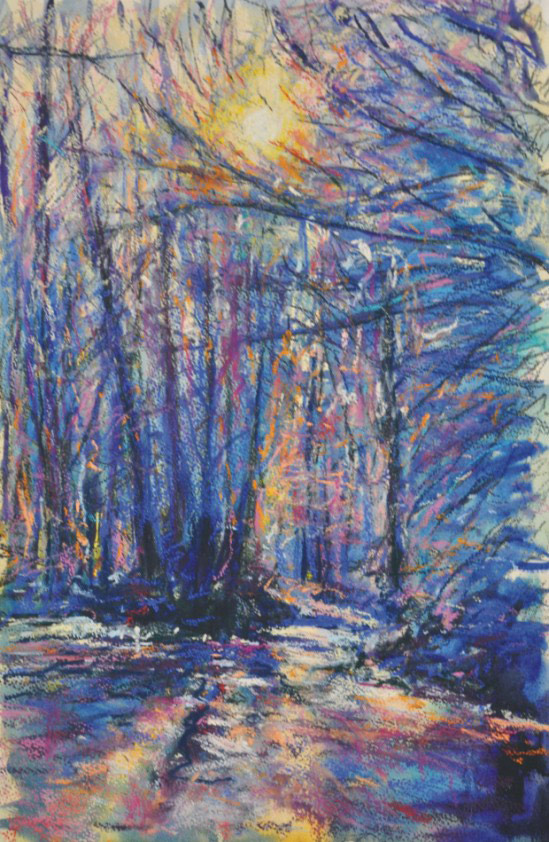 This allows you to be very loose with your watercolour as you are able to tighten up afterwards, adding, cutting in and softening as you wish. The idea being to keep much of the original watercolour glowing through. It was the forerunner of my then taking this further and into using acrylics inks for even more intense colour and flowers! Then working the pastels over and around. I will be showing you this shortly.
Below is a workshop where you can see the variety of different images on the same theme and where everyone succeeded and enjoyed?

Due to the amount of wet in wet painting at the start I advice that you do wet and stretch your paper before starting, or you may find the paper "cockling" to be a problem. This exercise is an excellent one for exploring the different colour hues of your blues and warms. The Unison range are especially good for this with their lovely cool Turquoises through to Ceruleans and Ultramarine blues. How purples cross over from cool warm as you see above left?
You can buy different coloured chinagraph pencils. If you feel safer to lightly sketch out with an ordinary pencil before committing to chinagraph that is fine!