For well over a year I have been working on a collection of pictures of Cornwall. I live in London, but I have Cornish relations and I have been going there nearly every summer since I was a child. Five years ago my mother bought a little cottage on the north coast of Cornwall, so I have been able to go more often than before, and in every season, taking my three children and my trusty boxes of soft pastels.
I began to try to document the stretch of north coast where my family come from, and I also began to read, and think about what Cornwall has offered the rest of the UK: a county on the extreme tip of the British Isles with its own language and customs; once an important source of china clay, tin and silver, and centre of international trade and still a major fishing hub. I already owned a box of Unison Colour pastels, with 72 delicious shades. I used them initially alongside my Stabilo pastel pencils and layered them over my oil paints. Later I bought one of Unison's artist-selected sets and enjoyed another seventy-two 'ocean' shades. I now have the full-range – every single hue that Unison Colour produces!
I like to play with colour, seeing Fauvist combinations on even the greyest day. There's so much movement in a British coastal landscape, the weather blowing through, the sea endlessly changing, sunlight sometimes elusive but always savoured. I love the direct, tactile connection that I have with the picture when I'm using soft pastels, the marks coming straight from the block of pigment in my hand, the crumbling silky feel of it, layering line upon jagged line, flecks upon scribbles; then other times smoothing, smudging and blending.
I took my pastels with me whenever I went, taping the boxes closed in my bag to keep them safe, carrying them lovingly down to the beach and back. I'd work also from photos taken out on the wind-swept headlands, and finish an evening by the fire in my mother's cosy sitting room, my fingers smudged in the pastel dust, propping finished pictures up on the mantelpiece to look at the next day. Although my time was limited while I was in Cornwall (my children were aged two, four and six at the start) I thought about the work all the time and sketched in snatched moments. I came back to my London studio inspired.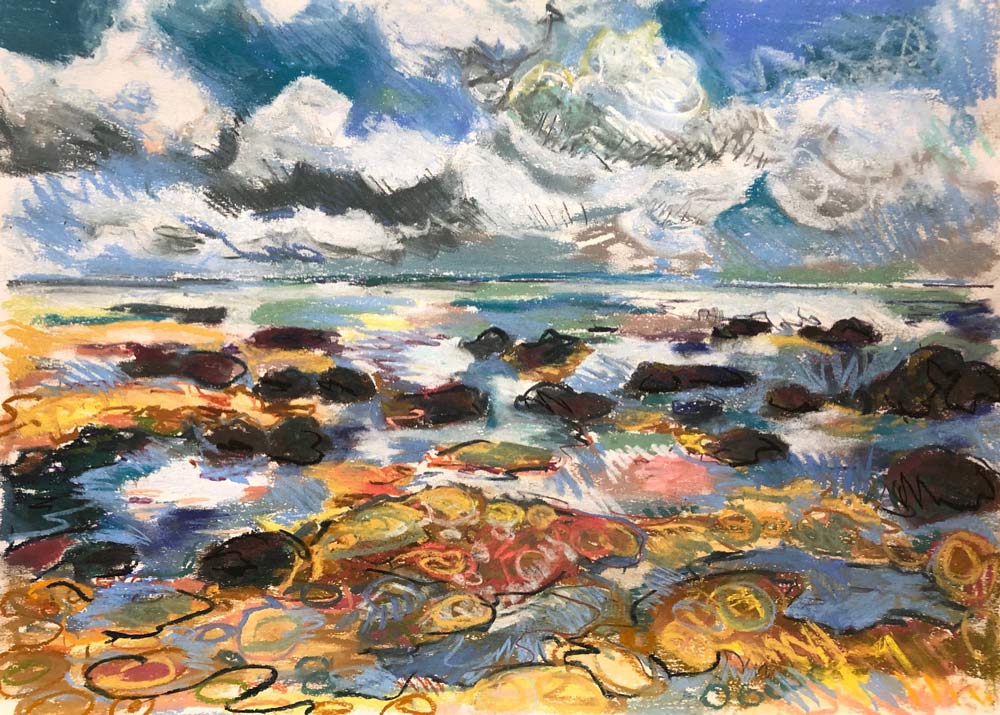 I've heard that for some Cornish residents, the sea can become a little-noticed backdrop to their lives or can seem the domain of wealthy holidaymakers. For me it held a mesmeric power all year round. Nowhere in Cornwall is more than 20 miles from the sea and I tried to capture the movement of water, the slip and sing of the tide over time, the danger of the currents on this stretch of coast. I drew my children collecting shells, digging dams on the beach like my grandparents and great-grandparents had done as children; I tried to sculpt (in pastel and oil paint, my two favourite and oddly compatible mediums) the contours of the cliffs and headlands at The Rumps, Gull Rock and the snaking coastal path which winds through this Area of Outstanding Beauty. I explored the sloping streets that cluster behind the harbour at Port Isaac and St Ives; the exotic south coast, Mevagissey, St Mawes, Porthcurno, Mousehole, Newlyn and Lands End. I also looked inland, searching for standing stones and slate mines; drawing cattle, pigs and sheep at my second cousin's farm near Wadebridge; trying to capture the murmurations over Roughtor on Bodmin Moor.
There are stories everywhere. I imagined the women and children at Port Quin who were left destitute when all the men in the hamlet broke the Sabbath and went out to fish. They were caught in a storm and since not one of them could swim they all drowned, and their families were forced to abandon their homes and move to the workhouse in Bodmin. All over Cornwall there are ghostly folk tales of mermaids, piskies and sea creatures.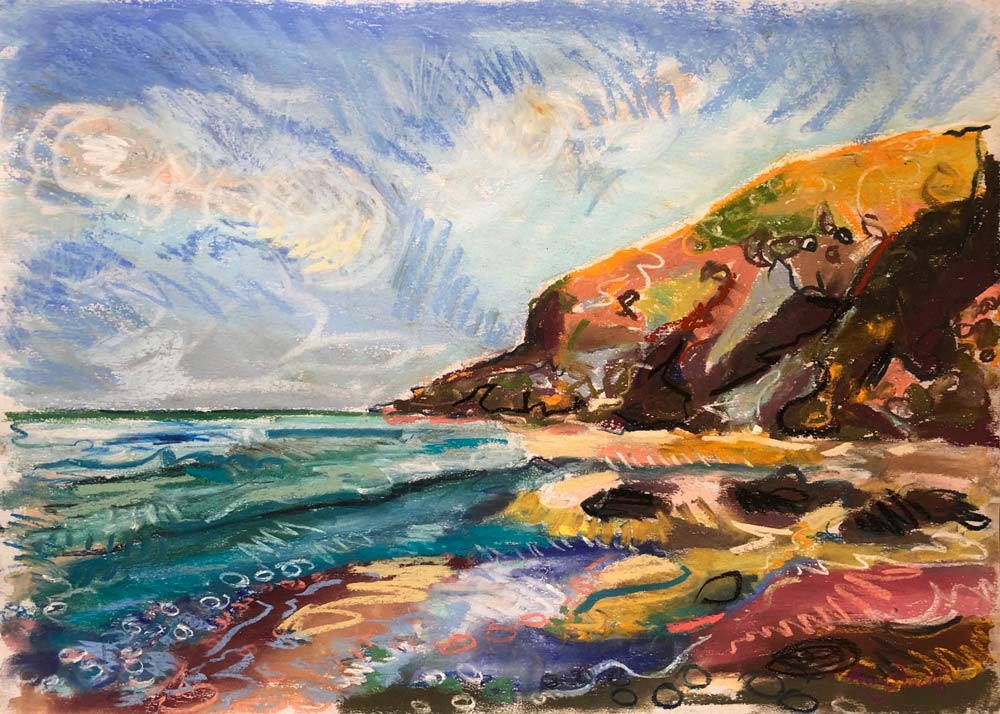 As the project grew I realised I had enough work for an exhibition. I read books about (or set in) Cornwall. Thomas Hardy's poems about meeting his first wife at St Juliot; Philip Marsden's book Rising Ground, charting Cornwall's landscape and sites of spiritual significance. I discovered Penelope Shuttle's poems; Lucy Wood's eerie short stories, Raynor Winn's memoir of walking the south-west coast path; Catrina Davies' book about living in a Cornish shed. I saw the (then little-known) film Bait, by Mark Jenkin, which went on to win huge acclaim.
To my delight, many of these writers agreed to take part in a literary line-up at the exhibition I was planning in a gallery in west London. Philip Marsden and Lamorna Ash both committed their time and were scheduled to speak 'in conversation' with me in July. Lamorna Ash, a Londoner, went back to live in Newlyn and joined the crew of various fishing rigs, immersing herself in their sea-faring communities. Her book Dark Salt Clear is a poetic read, full of observations about how life at sea, and near it, profoundly shapes us. Philip Marsden writes gloriously in Rising Ground about the hidden layers of history within Cornwall's landscape and I was thrilled he agreed to talk about his latest book, The Summer Isles, A Voyage of the Imagination, which charts his journey in an old wooden boat up the coast from his house in Cornwall.
Kneehigh Theatre agreed to let me show a series of films animating locally sourced tales of Cornish life, retold by their playwright Anna Maria Murphy. Cousin Jack's, the popular Cornish puppeteers, were to stage a performance, in-the-round, of the Mousehole Cat, a beloved Cornish legend by Antonia Barber, about a fisherman and his cat who save the village from starvation by catching fish in a storm. Rachael Allain, a sound and film artist was ready to talk to me about her work exploring the sea. She's recorded the sound of plankton digesting microplastics, and I invited my second cousin, Emily Shuckburgh, a climate scientist, to contribute about human impact on our oceans.
Traditional Cornish dancers Hevva were going to dance; WildArt Cornwall offered sculpture workshops, Kernow in the City were to hold Cornish language workshops and Shall'ee Shantee singers were to sing sea shanties in the gallery. Oliver Padel, Oxford professor of Cornish studies, kindly wrote a catalogue essay about the origins of the place names of all the Cornish sites I'd painted.
The gallery, Elephant West, hosting and funding all this, is situated on Wood Lane in west London, close to the Grenfell Tower. The links between these two very different places – London and Cornwall – felt important to highlight, as well as the obvious and striking differences. I invited the charity Cornwall Hugs Grenfell, who offer respite holidays in Cornwall to Grenfell fire survivors and their families, and the talks and workshops were to raise awareness and funds for their important work.
As Philip Marsden writes in his book, 'The ability to believe in places that are invisible, to build stories around them and inhabit them, remains the defining attribute of our species'. This exhibition was due to open on 24th June 2020 and run for two weeks into July 2020. Coronavirus of course scuppered this plan. The gallery has closed permanently, and the possibility of holding immersive events in an exhibition space, bringing in crowds, all seems unthinkable for the foreseeable future. The loss of the show and its line-up of events is of course the least of our worries really, a small price to pay, when so many have had to lose and suffer so much in this pandemic.
But I hope that the power of place, certainly the pleasure in being transported by art (whether paintings, books, music, dance, puppetry, film, or stories), will never be lost. I feel huge gratitude for the opportunity to transport myself to Cornwall in my mind throughout lockdown and beyond. And now my Cornish work, together with my other recent pastels, oil paintings, drawings and collages, is on show and available to buy throughout October and November 2020 in my own Open Studio Sale. While I am sad not to have held the wider cultural show that I'd imagined, I am enjoying my Studio Sale, where I can meet people one at a time, by appointment, with whom I can talk about my work and the stories behind each picture.
Prices from £50 to £1000.
WHEN: Throughout October and November
WHERE: 37 Ormiston Grove, Shepherds Bush, London W12 0JR
Book a time: 9am to 2pm Monday to Friday … weekend visits welcome
Please Book Your Visit Now
Visit my website www.amyshuckburgh.com to see work and for online enquiries if you're unable to attend in person.