Pre-planning & Composition choices
When it comes to working in the abstract style, one might think there is no process, no structure, no thought, or plan on what goes into the creation of abstract art. In the past I can honestly say I did work this way. I would jump to the easel with no type of pre-planning and I had some success. For me, it was becoming unsustainable and I felt my work was becoming stale, one painting looked like the other, so I needed to do something to correct this. I found we can pre-plan and still keep our work intuitive. I know, there is nothing better than getting lost in your painting. Pre-planning can save us time, help us work out any design issues. Planning can be as simple as choosing a few colors of pastels ahead of hitting the easel, defining a title or theme for your work or pre-choosing a design. Some simple pre-planning can help you have success in completing the work and help you keep focus from beginning to end.
Pre-planning examples
Here are some simple pre-planning ideas. A good example you could try, I start many of my works with a title even before I drop my pastel or pencil on the substrate. I have found it helps me stay focused on my original idea, even as I am busy working away (yes intuitively) if this makes sense. While I am deep into the zone, jamming to music, making marks I have found if I write the title on the top of my easel it keeps me focused on the original idea, again, even when I am working intuitively.
Another example is pre-plan your paintings compositions style (sometimes I mix more than one composition style). Something to consider or try. We all have our own styles, and do things our own way, and you should find what works best for you as you grow in your art. I am simply sharing how my abstract art has evolved over the years, the more I learn from a little pre-planning or writing down ideas before I start working, the more I feel it becomes memory and innate in the creation of my next artwork.
Varity in compositions:
Wikipedia defines the word Composition as, putting together and organizing elements using conscious thought (this is the pre-planning part). I like to combine conscious and unconscious thought into the creation of my art and I love getting lost in my work, but I know in the end, when I step back, my abstract art must work technically, be interesting, reflect changes in value etc., like any other genre of art.   
The composition styles I work in are as follows (credit and thank you to Bob Burridge).
Cruciform (not one of my favorites I must say)
Cantilever (I like this style, great for pencil work and connecting shapes)
Horizontal
Rectangle or Overlapping Frames (Going out on a limb, I wasn't sure I was going to like this style, but I am always game to try something new and it worked. My art work was accepted into shows, won an award and in the end my dentist loved it so much he purchased my painting)
Organic (this must be my favorite, great for just mark making)
Vertical (interesting, turn it on its side and its horizontal)
Constellation
Meander (like organic)
Diagonal
Center (tried this with some in-work pastel florals)
Tension (another favorite) like cantilever
Radial (image radiates outward)
Floating
Zigzag (you zig, you zag)
Golden Section (focal point)
Checkerboard (game of chess anyone?)
Note, you can also combine more than one compositional style into your work, it can only make it more interesting and add depth to your artwork.
Below is a very rough drawing of compositional styles I keep in my studio for reference, nothing fancy but you may want to try a different composition, mix it up. Trying out new things and playing is how we grow in our artwork, how we get better.
While I haven't put into use all the different compositional styles to use yet, I tend to fall back on my old favorites, such as the organic composition (mark making, edge to edge flow of lines and shapes interconnected) and the cantilever composition (a weighted edge, mark making with connected shapes). The day is not over, there is definitely more artwork to come.
Below are a few examples of different compositional styles in my artwork along with some of my favorite Unison Colour pastels, loving the larger pastels, they work great for larger paintings.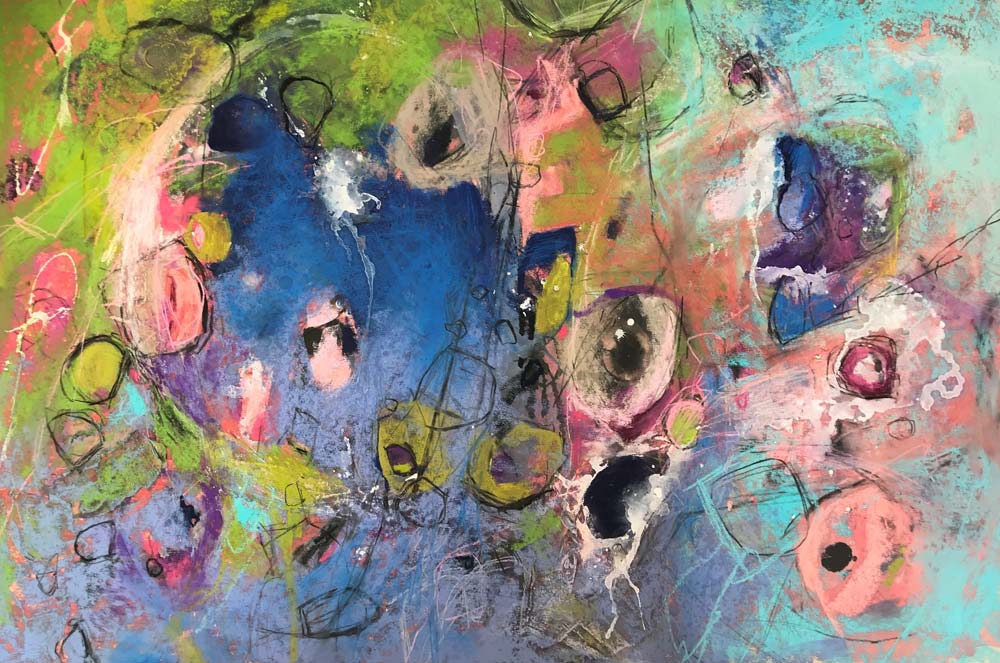 Whatever your preference, have fun exploring and enjoy the journey!