In October, we held our second 5 Day Pastel Challenge with over 700 artists joining us from around the globe to participate in a 5 day challenge, led by Associate Artist, Sue Kerrigan-Harris, who is an experienced teacher in animal portraiture.
3 of those participants have very kindly taken the time to write about their experience. Their accounts are here for you to enjoy…
Anca Lowe
As a child I have been mesmerised by an actor in a children's programme who was always drawing a nice character in each episode. I wanted to draw like him… but life works in mysterious ways, so after 30 years of working in a technical field in a major corporate, I decided to follow my childhood dream. Pastel has been a favourite medium and when I started getting the Unison pastels, the world has become a better place. Unison pastels are a bit like the Pokemon theme: You got to get them all!
Upon discovering the 5 day pastel challenge organised by Unison with the brilliant artist and tutor Sue Kerrigan-Harris I could not resist and signed up. We painted a lovely dog called Bailey. Although I didn't have all the materials listed, I made do with similar colours.
Sue started with the background and the eyes. I've always left the eyes and any fiddly bits on my paintings for the end, but now I can see how your painting is more vivid if you have the eyes down. It's almost like the animal is already looking at you and giving you feedback on how you're doing (see the picture! Is Bailey not looking at you a bit like a Cheshire cat that only had the smile visible?) Loved this and it's a tip I will continue to use in the future.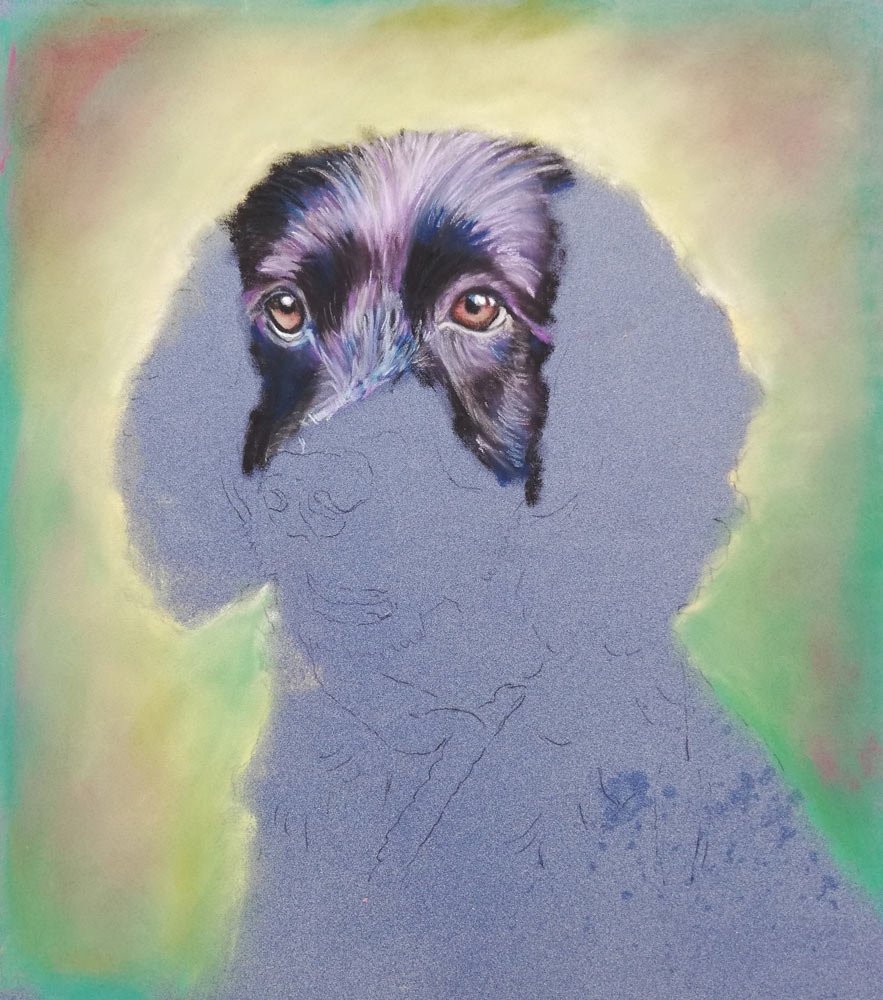 I'm a messy artist, I work all over the paper, and that leads to smudging sometimes, or simply forgetting some things I had in mind to finish off later. Sue has a very progressive style, where she moves on the paper in a defined direction. Another lesson learned that I will try to keep to going forward.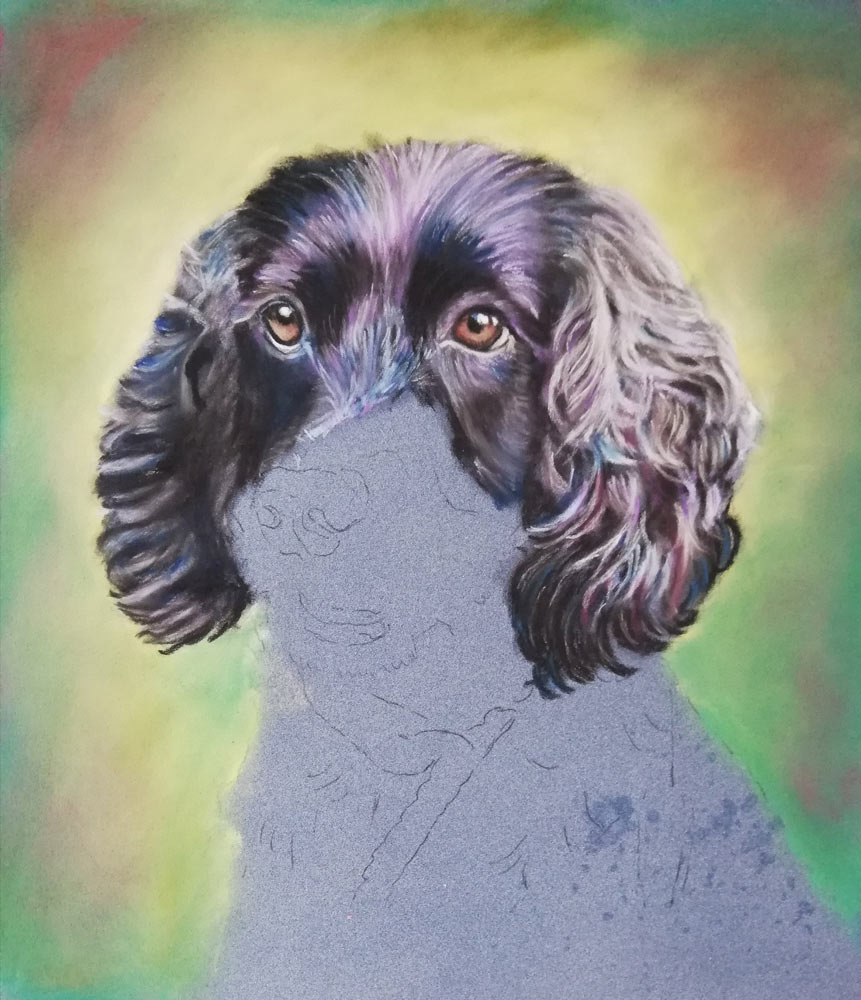 There are plenty of great tips on how to work that I have taken from Sue and I am forever grateful. Including how to sharpen and use the edge bits of the Unison pastels for the highlights. Due to how creamy they are, they overlay great onto existing layers of pastel. Those beautiful ears were a challenge and I am really happy with the result.
The Questions and Answers sessions in the evenings have been very helpful and gave me even more insight into how to work with pastel to get the best results.
It was an amazing experience and I am really happy I joined. Will continue to follow Unison's workshops and Sue's work since there is so much to learn from them.
Here is me and my lovely finished dog as it came after the 5 days.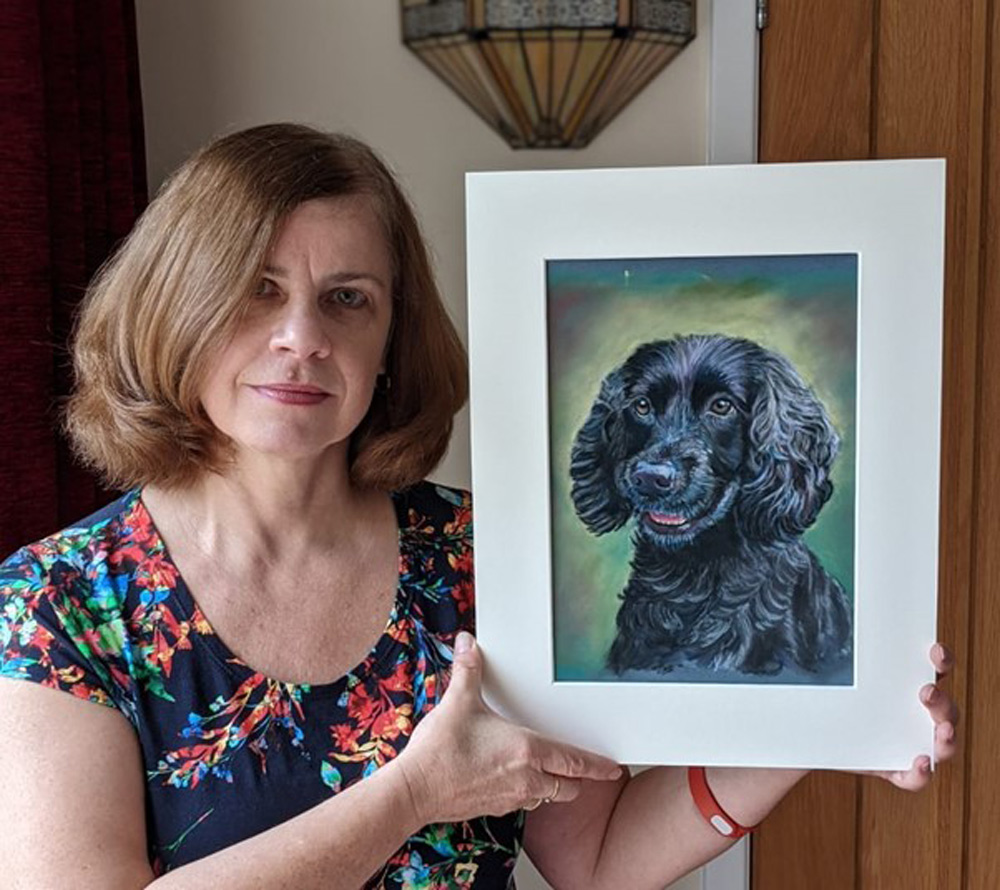 Thank you all at Unison for organising and facilitating this series of workshops, you are all amazing.
Anne Baldwin
I discovered art very late in life. During lockdown I was self-isolating due to asthma I decided to open a Facebook account to keep vicarious contact with people and used to write poetry to keep myself occupied. I was writing one day when I had a block. I started doodling waiting for words to come and I realised I'd sketched a reasonable picture, I'd been so absorbed in the sketch I hadn't realised how much time had gone by.
I'd been ok at art at school and had an A and O level but not good grades so I'd worked all my life in various jobs, the most recent as a Police officer.
My friends and family encouraged me and I started watching YouTube and reading books buying material and practicing. I was even getting people requesting commissions and paying me for their visions of what they wanted.
Then I saw the "Unison" Facebook page. I love Unison pastels and requested to join.
When the five day challenge came up I was so excited I was eager to learn new techniques and understand more about building layers with the sticks, up until then I'd used mostly pastel pencils.
Day one I got the email and clicked the link which took me to the challenge Facebook group, then from there in announcements I clicked to open the PDF, it was a fabulous step by step instruction inlaying the colours, blending adding more details with the pencils, I drank it up, I'd worked all day to get it right. I could not wait for the next email.
I followed the steps religiously reading over and over. Before committing myself to even one stroke I needed to understand not just what I was doing but why. I'm so pleased with my final Bailey portrait and have signed up for the "horses eye" tutorial.
I absolutely adore the Unison pastels they are so creamy and buttery and blend so beautifully on the A3 grey toned pastelmat paper I used.
Here are the stages of my Bailey portrait. I hope everyone else gets as much enjoyment out of their Unison pastels as I do, I'm working on a very large three dog portrait with owner right now, here's a sneak peak of the work in progress.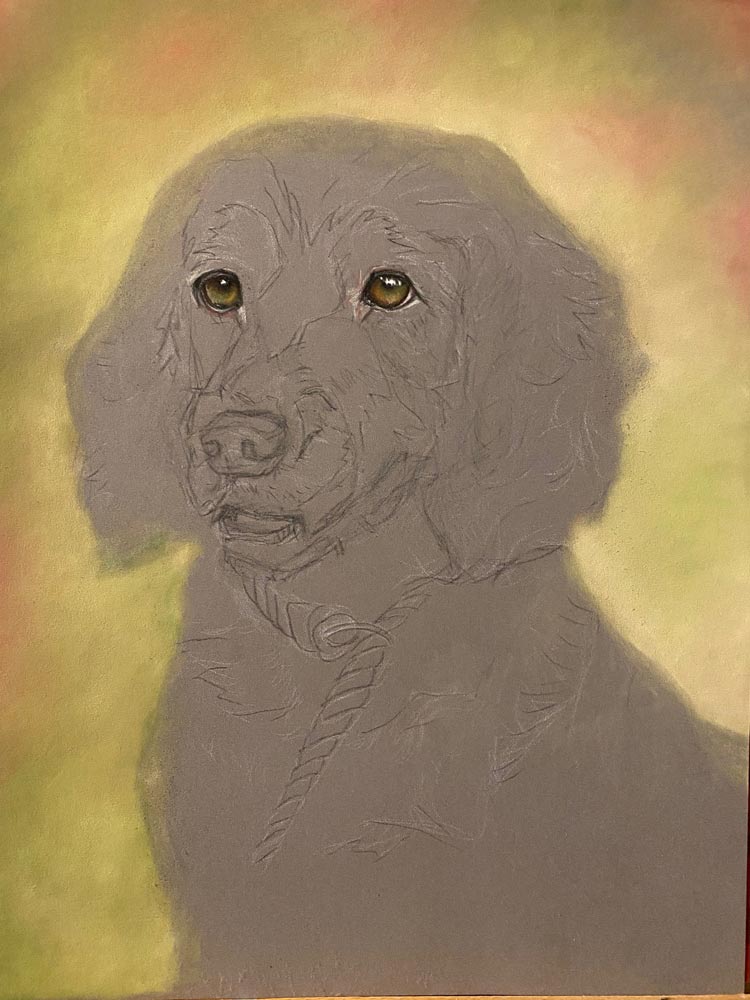 Juliet Braxton
Firstly I'd like to thank everyone at Unison Colour who made this fantastic project possible; Helen, Dan, Sue and I know many more in the background.
As a child I loved doodling pictures of horses, dogs and mythical creatures; then life happened! 57 years later I have got my love of art back and it grows stronger every day.
Seasons Art was my first 14-week art journey of pencil to acrylic, along with many other media. Given a taste I was keen to learn more, racing to the internet I found artist Sue Kerrigan-Harris, a fantastic wildlife artist, and a new challenge with pastels! With Sue's suggestion I joined Unison Colour on Facebook to find like-minded artists and a great family feel, with many projects from various artists to follow.
So 'Bailey' the dog. My first project run by Sue over 5 days was a real challenge for me as he was a black spaniel, so contrast was the name of the game, as a new challenge I went for it! I had one more slight problem, my foot surgery got scheduled for the week before… I arranged my sofa so I could keep my foot up and still manage to draw, so all set!
Day 1 – Eyes & Background – To start I followed Sue's fabulous instructions of drawing Bailey on a grid and transferring it onto pastelmat paper. Next was the eyes, I love drawing eyes, so I was very happy working with the colours and shapes… so far so good. The background was another matter, it just looked a mess, so I decided to leave it for a while to let inspiration come to me. Thankfully at 6pm Sue's Q&A gave great encouragement and helped me with mixing colour, also hearing questions other participants made me feel I was not alone and that everyone had their own way of interpreting the challenge.
Day 2 – Forehead & Cheeks – It was interesting laying down one colour on top of another, building up layers to start the 3-dimensional shape. Watching the time laps really helped a lot with the great insight provided by the diagrams and notes.
Day 3 – Ears – 'O' Help! I found the ears very daunting being a mass of curls; my main problem was continually rushing them… several attempts later and a few slow breaths to make me slow a little I ended up with a good attempt, few!
Day 4 – Muzzle, Nose & Mouth – Baileys nose was fab, so I started there, taking my time and enjoying tweaking the colours. Teeth on the other hand 'Grrr', my mantra 'No Tombstones' kept me on track and some careful use of colour to keep them white. Then I added the lovely soft wet tongue, not easy but fun to do.
Day 5 – Body & Finish
Getting into the flow of black fur now. Sue's Q&A once again gave inspiration, helping me to make Bailey's fur shine.
The finished article was a good attempt and I learnt a lot from this wonderful project. Now I know the main techniques I would really like to give it another go and try to slow things down, there are a lot of areas I feel I could finesse.
Thank you for this great opportunity to join such a welcoming community with fantastic projects. I am really looking forward to my next challenge, horses, my favourite! Happy pastelling everyone! 😄
We thank Anca, Anne and Juliet for taking the time to write these wonderful accounts of their Bailey experiences, and for sharing the stages of their stunning paintings.
If you're wondering whether we'll be running anymore challenges, the answer is, certainly! We have more in the pipeline, with the next one appearing in early 2021 – so stay tuned!