For many years, I was caught up in other artistic pursuits — calligraphy, basketry on intricately painted gourds, drafting and design work. But, one day, in the way of all good mysteries and life-changing events, I came across a small box of pastel sticks, the lid held in place by an ancient piece of masking tape, dusty and hidden in the back of a studio closet since art school. That little box upended everything I knew about my art life.
I had a history of creating art that I could obsess about as I made it, requiring tight work and skills that needed a certain amount of perfection. Calligraphic forms had to be controlled and exact. The basketry and intricate designs I crafted on the gourds were done with crow quill nibs and tiny brushes, and the long pine needles I used – were meticulously wound together into neat, careful coils, the stitching symmetrical and even.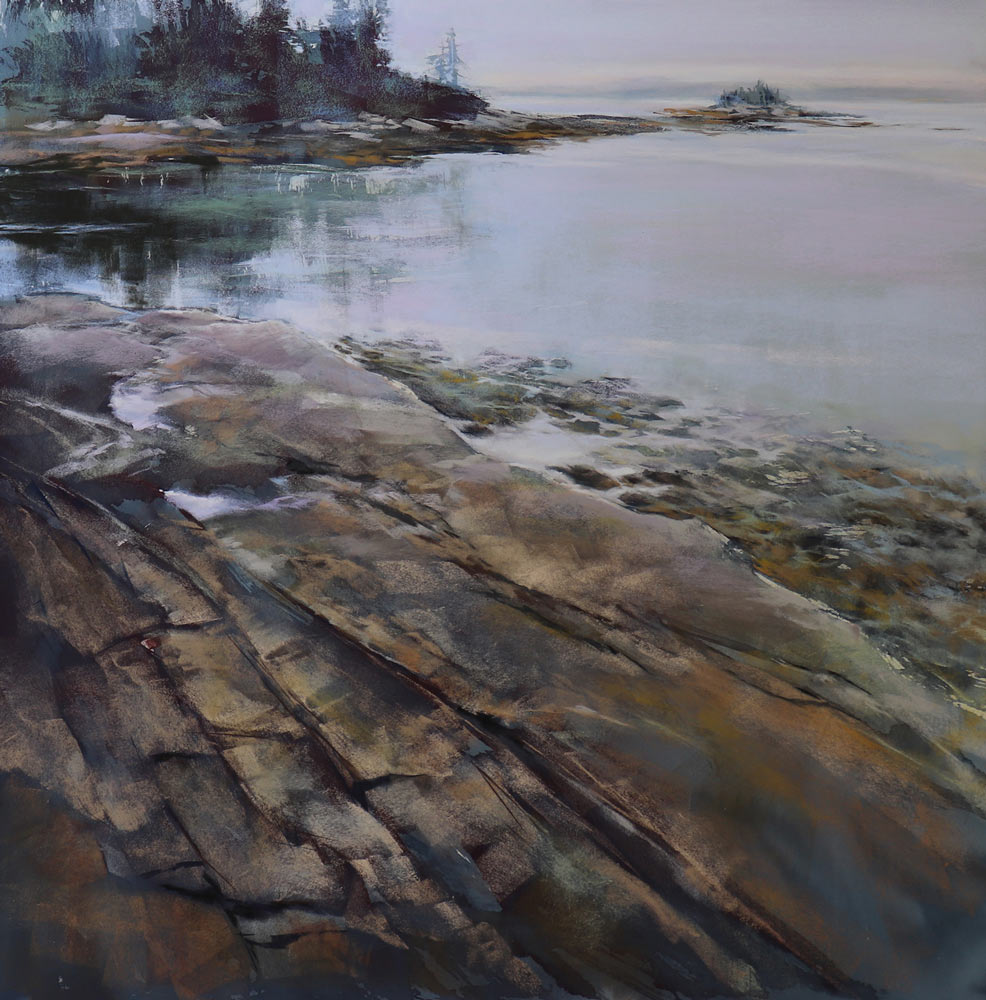 The dozen or so pastel sticks from that old box, scratching merrily across the sanded surface of thick, heavy pastel paper, was nothing short of a sensory feast. Buttery color, thick marks, thin passages of pigment… these joyous explorations had me immediately transfixed. And the options that were available… papers made of different colors and textures, pastels that were hard, soft, velvety, gritty! The visual delight of simply opening my studio box was a marvel all by itself!
My first pastel sets were the Unison Colour Landscape set and the Portrait set. I spent months trying them on Wallis paper, UART in various grits, foam core with gesso and pumice, La Carte, Clairefontaine PastelMat and as many colors of Art Spectrum paper as I could get my hands on. I mixed, blended, and experimented. I made underpaintings with water and alcohol (both isopropyl and the drinking variety… when in a pinch, those tiny bottles of vodka work well!), I used pastel over watercolor and gouache and oil paint and calligraphy ink.
For the first time, I found that I could make an actual mark that could express the emotions that described what I saw and felt in a place. Having always loved the landscape, the endless variety of marks I could make seemed to finally give me a vocabulary to use, and practically begged me to learn and explore more. A tight mark or a loose mark, made fast or slowly, pushed hard into the paper, or delicately placed in a thin layer over another color… these marks had the ability to do so many things! They could emphasize what I was feeling or could describe the textures of objects or the quality of light and air. The gorgeously pigmented colors, from neutrals to lights to darks, could be combined to freely express the mood and the atmosphere of the places I wanted to paint. I had found the means to be expressive in a way that had eluded me before.
Pastel allowed me to work with it, and the wonder of using just my fingers to manipulate that stick of pigment, to push or pull it over the surface of the painting, well, that was just magical. The sculptural, tactile sense that is experienced in the application of pastel is truly unique.
For those of us fascinated by pastel, we share a common sense of discovery with every painting we create. We share the excitement of a medium that quite simply begs us to play as we work. As artists, what could be better than that?