Who would believe what possibilities and potential lie inside these neatly wrapped lozenges of colour? They are essentially chunks of pure dry pigment, more intense in colour than any tube of paint. The following exercises feature the 36 colours which I have selected for use by my workshop students being specifically appropriate for the local landscape where we paint in Wiltshire, however I recommend the starter set of 36 or 72.
To learn fully what pastels can do takes courage! Courage to take the wrappers off and break the pastels clean in half. You may smile but I can guarantee that if you do not do this then you have already placed limits on your ability to develop a full understanding of mark making. I shall return to the subject of mark making a little later. You may want to keep the wrapper on to keep your hands clean and it is possible to make beautiful and careful artwork simply using the tip of the pastel and many artists do, however, let that be your choice after you have learnt to use them in all their dimensions. It is essential that you allow yourself the opportunity to make a mess and get your hands dirty with pastel dust. In fact, it is a prerequisite.
The second lesson is that soft pastels might break and crumble so you might run out of some colours very quickly. If they don't then you haven't really used them. I mean really used them. For successful development you must find out what results are achieved by applying a variety of pressures. Discover their breaking point with the application of firm pressure and also gently stroke the paper with the lightest touch. Don't be frightened of them, they won't bite. They will, however, guided by your hand and intention, make the most beautiful marks of colour on your paper. If you should break one you can easily replace it as a single colour without having to buy another box set.
Exercise 1: Colour chart/unwrap/break pastels
This exercise is the first step on your soft pastel painting journey. You will need an A3 size sketchbook with white cartridge paper, either ring bound or soft cover so that you can bend the covers right back whilst working which you cannot do with a hard cover. Using the first page of your new sketchbook make a colour chart of your Unison Colour Soft pastels by stroking the pastel over the paper and write the colour code underneath. You can buy a colour chart and simply tick each colour but at this stage I recommend you physically do it yourself as this is your first practical experience with pastels. Then when all colours are recorded you can carefully take the wrappers off and break each pastel in half. Keep them stored in their original box as these are specifically designed to keep them safe. Now you are ready to make some marks.
Exercise 2: Mark making
I know you will be eager to paint your first masterpiece and you might have some photos at hand but please resist the temptation at this stage. If you are new to pastels then you are not quite ready. I say this because you might give up too easily when you discover that you couldn't run before you could walk. Making a mark on paper is all about the practical gesture of the hand, the specific painting or drawing tool, in this case Unison Colour soft pastels, and the surface. Mark making using any medium involves energy, intention and action and none more so than with soft pastels.
Get to know your pastels, your surface and your intention just as you would if you were learning a new craft. I encourage you to develop an attitude of enquiry and practice. The cartridge paper in your sketchbook is perfect for your initial mark making practice. Try out all of these gestures and movements with your pastels: push/drag/add pressure/gentle stroke/sharp edge/push roll edge/random roll edge/push twist dust/regular line/long fluid lines for grasses/cross hatching/scumbling/blending/mixing colours/line/wide sweep/line twist wide/wide twist line etc. These are just some of the ways of making your marks with soft pastels – you will discover more, creating your own style as you further your knowledge and experience.
Exercise 3: Work from observation
Working from observation is essential for the development of all artists and as a beginner it is important to set positive habits early on. With this in mind the easiest of subjects is fruit. Choose a few pieces of fruit and place them in front of you. Using your sketchbook again, have fun making some curved sweeping marks on the paper to replicate the round shapes of the fruit. The detail can come once you have practiced the shape and colour of each piece.
Get used to using the pastel on its side to make these broad sweeping marks. Overlay colours to get the varying tones and experiment with blending, compare results with unblended. When you have mastered single pieces then try a bowl of fruit, noticing the purply tones of the shadows that will add depth and observe where the light falls on each piece of fruit. You will discover an excitement when you reach each goal with these exercises and naturally look for the next challenge.
Exercise 4: Take your pastels outside
Continue working from observation but take your pastels and sketchbook outside. Whatever the season, make sure you are warm enough and comfortable. When working outdoors it is so easy to get cold and uncomfortable if you are not properly prepared and this will affect your concentration. Remember also that the result of this exercise will not be a pretty picture of your garden so much as a few pages filled with beautiful fluid marks of colour which will be your response to observing the plants, trees, flowers around you.
You don't need to be focussing on detail but simply shape, colour and texture. Notice how trees and foliage rarely display straight lines in their growing habit so the more random you can make your marks then the more natural they will appear.
Exercise 5: Trying different papers and surfaces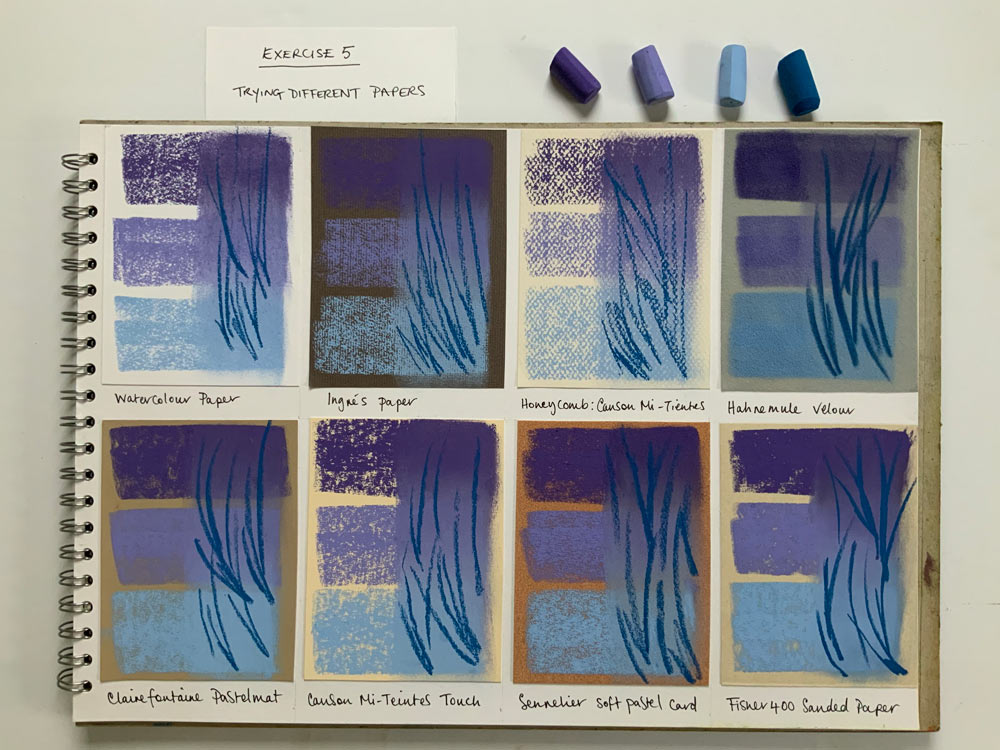 You have been developing your observation skills and learning mark making techniques so now it's time to try different papers.
Start a collection of traditional and non-traditional papers and cards. Attach a small sample of each approx 9.5×12.5cm in your sketchbook and include the names of each paper. Select a few pastels with which to experiment some marks on each surface.
To make your comparisons easier to identify then use the same marks and colours for each piece. What you will need to discover in this exercise is how each texture reacts in combination with the pastel marks, so use the pastels for wide sweeps of coverage, blended and unblended and also on their edge for fine lines. You will quickly see which paper characteristics you enjoy working with.
Soft pastel tips
When working on a drawing board, neatly tape your paper along each edge covering about a centimetre all round. When the painting is finished, and you take the tape off then you will have a clean edge with which to handle the painting and visually it gives you an instant frame.
Avoid blowing the pastel dust off your paper, instead turn your paper over and either tap it from the back or shake it off.
Hang an old towel on your easel so you can keep wiping your hands and cleaning your pastels to avoid colour contamination on your painting and if you work seated then lay the towel over your lap so it is always at hand.
Always have a ready list of pastels that you would like to own to give to your friends and family when they ask you what you'd like for Christmas or Birthday. Buy as many Unison Colour pastels as you can afford. Mixing colours is not as ideal as having the ready-made colours available if you want to keep your work bright and intense.
Collect ideas in your sketchbook in the form of quick notes as well as sketches so you start to build a bank of future projects. Sketch, draw and paint whenever you have a spare 20 minutes. You will soon be able to work quickly to capture information as well as develop your observation skills. Work from life wherever possible.
Read and watch as many pastel painting videos and magazine articles as possible as well as blogs such as this one. Follow pastel artists and Unison Colour on social media for up to date news and techniques. Take physical local pastel workshops as well as online ones.
Save any broken bits of pastel and pastel dust from your easel drip tray in little plastic pots so you can mix them with alcohol or water to use as paint.
I recommend working at an easel with the drawing board vertical so all pastel dust falls off your painting. If your board is at an angle, then pastel dust as you are working will fall onto a lower part of your painting leaving colour where you do not want it. Working vertical at an easel is always preferable to working flat on a table.
I would be very happy to answer any of your soft pastel painting questions and would like to take this opportunity to welcome you to the soft pastel painting community and hope that you have an exciting and inspiring journey. Thank you for reading.
For further learning, Cathy has a Still Life course over at the Pastel Academy where she will be adding a new module every month throughout 2022 – 12 Month Still Life with Cathy Pearce | Pastel Academy